Geodesic and Tunnel tents – what's the difference?
GEODESIC
(or semi-geodesic)
Poles cross over once or multiple times, usually making the tents self supporting: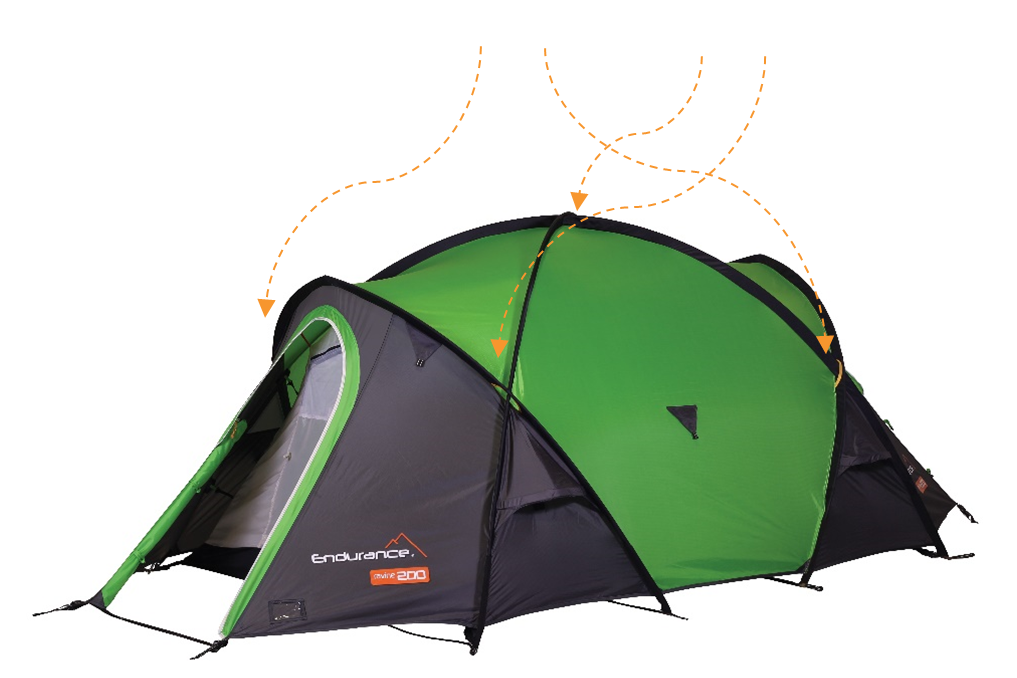 TUNNEL
(or arch)
Poles arch straight across the tent from side to side, so guylines are required to hold the tent up:
GEODESIC
The Pros
Stability: In most cases, geodesic tents are more stable. The more cross-overs, the more stable the tent is.
Ease of pitching: These tents are 'self-supporting' so once you insert the poles, the structure of the tent will form by itself. This makes pitching very straight-forward. The self-supporting structure means the tent can be relocated to a better space of the campsite once the poles are inserted.
Drying: these tents can be dried in the school hall / playground without the need for pegs.
The Cons
Weight: As a rule of thumb, these tents are heavier than tunnel tents, and the pack size is usually larger (to accommodate the additional pole/fabric required for this style).
TUNNEL
The Pros
 Weight: Much of the weight of a tent is the poles, so if you need a lightweight tent, start by looking at tunnel tents. Normally, these tents have a good space-to-weight ratio (there is a lot of space for a comparatively low weight).
Poles: All Endurance tunnel tents have identical length poles – this makes it easier for participants to assemble, and is a massive benefit when it comes to storage and maintaining a fleet of tents in your kit store.
The Cons
Stability: Tunnel tents must be pitched correctly – it's not difficult, but loose or poorly placed guylines can leave saggy patches in the middle of the flysheet. However, once properly pitched, they are very sturdy.
The conclusion…
There's no right or wrong! Semi-geodesic and geodesic tents are generally easier to pitch but are a little heavier, and tunnel tents require a little knowhow but are large and light.
Hopefully this guide has given you some pointers and things to look out for. Keep an eye on our blog for new updates, or sign up below to be the first to receive them!